Want the Best Pest Control in Little River?
Pest Control in Little River
It doesn't take much to attract pests to your home. Small things like a dripping faucet or crumbs on the counter are enough to be a beacon, and before you know it, your home is overwhelmed by an infestation. Luckily, it doesn't have to be that way. Our exterminators in Little River will eliminate existing pests and give you long-term protection.
We offer services that eliminate:
Mosquitoes

Fleas

Ants

Spiders

Stinging insects

Cockroaches

Silverfish

Rodents

Wildlife

And more!
Trust Our Local, Experienced Technicians
As a locally-owned and operated pest control company, we're dedicated to giving our neighbors the best pest control in Little River. We believe in building and maintaining relationships with our customers, so you'll always have a friendly face to depend on. Our Myrtle Beach pest control technicians are knowledgeable of the area's unique pest needs. Give us a call today!
Image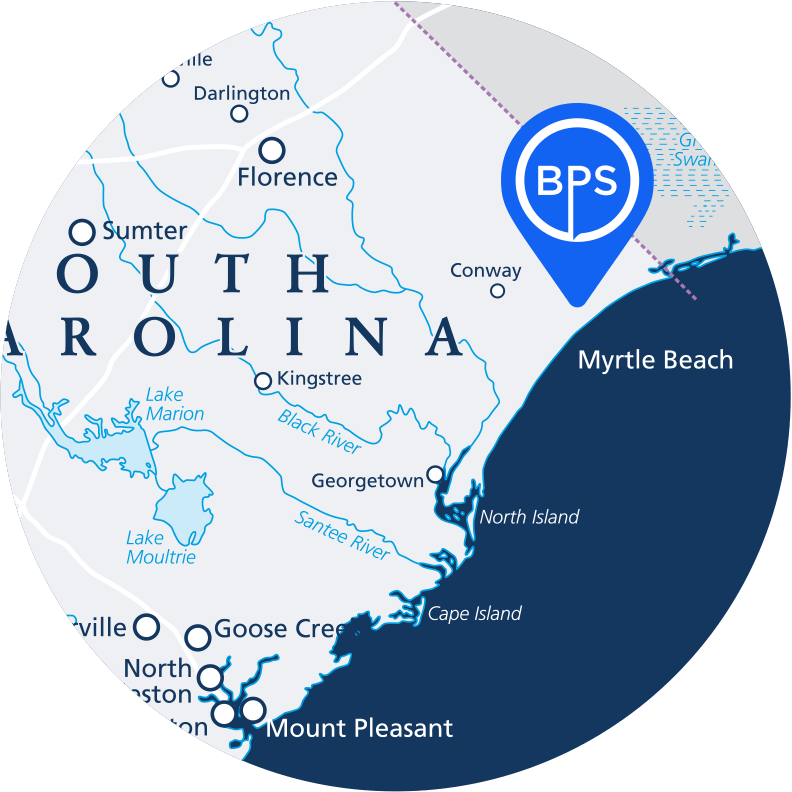 Outstanding Customer Service
Getting rid of pests doesn't have to be difficult! We strive to make the process as hassle-free as possible, which includes providing the best customer service. Our pest control in Little River comes with a satisfaction guarantee, but we don't stop there. We also send reminders before your appointment, work around your schedule, and answer any questions you have along the way.
When you partner with Beach Pest Service, we will:
Search your home from top to bottom for signs of an infestation.
Create a custom treatment plan using the best products available.
Eliminate all current pests while preventing future infestations.

Back our services with a satisfaction guarantee.
Bed Bug Exterminator in Little River
A good night's sleep is important, but it's impossible to achieve when you're sharing your home with bed bugs. Instead of using store-bought treatments that can actually make an infestation worse, trust our bed bug treatment in Little River. We use proven methods to wipe out bed bug infestations, no matter where they're hiding.
When you choose Beach Pest Services for bed bug treatment, we will:
Carefully inspect your home

to determine what rooms are affected.

Create a custom treatment plan

based on your home's needs.

Use a combination of

liquid treatments, heat treatments, and HEPA vacuums

.

Give you our

satisfaction guarantee

—if bed bugs come back within 60 days, so will we!
Termite Exterminator in Little River
Unfortunately, the great South Carolina weather comes with an unwelcome guest: termites. Termites work quickly, causing hundreds of thousands of dollars in property damage a year. It's critical that you reach out to Beach Pest Service the second you suspect termites in your home. Our termite treatment in Little River includes:
A full inspection to assess the infestation

and the best course of action.

Sentricon bait stations

 to create a protective barrier around your home.

A custom treatment plan

centered on your specific needs.

Annual inspections for continued peace of mind.

Service from

friendly, local technicians.

And more!
Save $100 on Your Initial Termite Treatment
Locally Owned and Operated
There is no one you can trust more than your own neighbors, and that's exactly who we are. We operate locally in the Little River area, which means we know what it will take to get your home pest-free—for the long haul. Our satisfaction guarantee ensures we return to your property until the job is done right. If you're looking for a local, guaranteed pest solution, look no further than Beach Pest Service! Our termite control in Myrtle Beach and surrounding areas will keep the termites out for good. 
Mosquito Exterminator in Little River
Are you tired of pesky mosquitoes ruining your outdoor activities in Little River, SC? Look no further! Our mosquito control service in Little River is here to provide you with the solution you need. With our expertise and effective methods, you can enjoy a mosquito-free environment all year round. Here's what you can expect from our service:
Free inspections: Our experts will come to your property and assess the mosquito situation, identifying any hotspots and areas of concern.
Liquid sprays: We use industry-leading liquid sprays that effectively target and eliminate mosquitoes in your area. Say goodbye to those irritating pests!
Larvicides in targeted areas: Taking a proactive approach, we treat specific areas where mosquitoes breed to prevent them from becoming a nuisance. With our preventive measures, you can enjoy your outdoor space without constantly swatting at mosquitoes.
Mosquito traps: As part of our comprehensive mosquito control service, we also offer mosquito traps to further reduce the population of these annoying insects. Our traps are designed to attract and capture mosquitoes, providing you with even greater relief.
Our Guarantee
Should pests persist in between scheduled treatments, simply let us know and we'll re-service your home for no additional cost to you. That's our guarantee to you!
Image