Get a Free Pest Inspection in Conway, SC
Pest Control in Conway, SC
Sharing your home with pests is stressful! These invaders contaminate your food, damage your belongings, and even put your family at risk for diseases. That's why you deserve pest control that's guaranteed to get the job done, and with Beach Pest Service, that's exactly what you get.
Our exterminators treat for:
Mosquitoes
Ants
Spiders
Stinging Insects
Cockroaches
Silverfish
Earwigs
Rodents
Wildlife
And more!
Trust Your Local Exterminators in Horry County
As a locally owned and operated pest control company, we understand how difficult it can be to remove critters from your home. We've dealt with them all in our own homes, and we want to save you the frustration of trying to eliminate infestations on your own. Trust our local exterminators in Myrtle Beach, Conway, and throughout Horry County for reliable, safe relief.
Image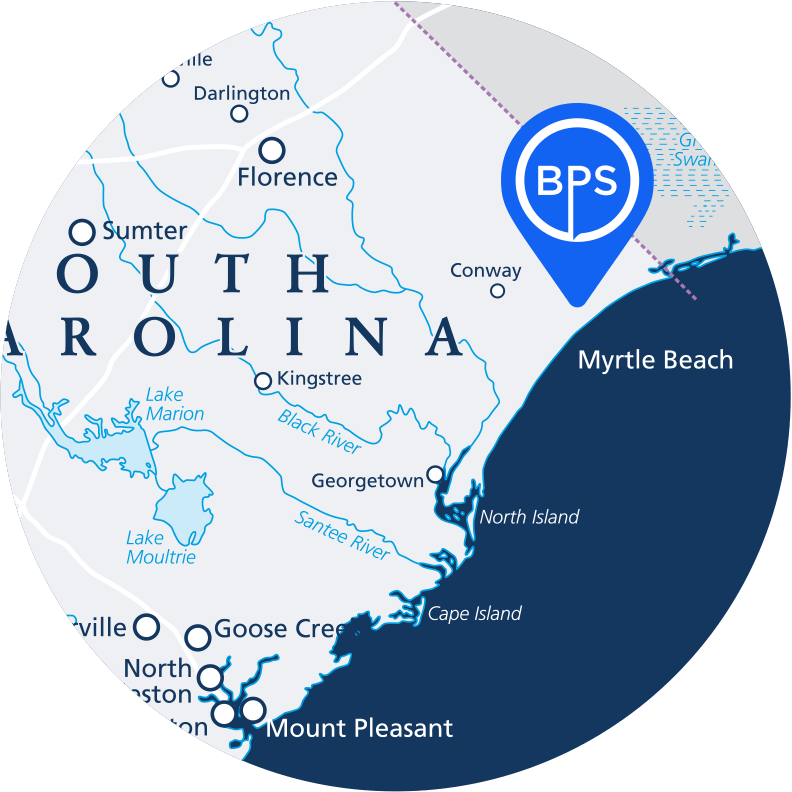 Areas We Service in Conway
Elmhurst

Carters Bluff
Grissett Landing
Jordanville Farms
Heritage Preserve
Downtown Conway
Buckwood
And more!
Effective Treatments with Proven Results
We strive to make our pest control as hassle-free as possible. We offer a satisfaction guarantee, use products that are both safe and effective, and offer exceptional customer support during each step of the process. Our experienced team strives to provide open communication and answer any questions you may have.
When you partner with us for pest control in Conway, we will:
Thoroughly inspect your home,

 identifying infestations, entry points, and other potential problems.

Create a custom approach

to get rid of pests as quickly as possible.

Schedule regular visits

throughout the year to prevent them from returning.

Re-treat for free

if you aren't completely happy after our initial visit.
Bed Bug Exterminator in Conway
Bed bug infestations happen quickly and quietly. These insects hitchhike into your home in luggage, on clothes, and on secondhand furniture without you even realizing. By the time you realize there's an issue, these critters are seemingly everywhere. To eliminate them properly, trust our exterminators, who offer a triple treatment system—vacuum, steam, and liquid—to tackle bed bugs from every angle and ensure you see results.
Our bed bug treatment in Conway includes:
A thorough inspection

to determine where the pests are hiding.

Treatment tailored to your home's needs

and the severity of the infestation.

Elimination of all bed bugs

, from adults to their eggs and every stage in between.

Experienced, local bed bug exterminators

 who will walk you through the entire process.
Not in Conway? We provide bed bug services in Myrtle Beach and surrounding areas. 
Termite Exterminator in Conway
Termite infestations are one of the most serious issues that homeowners can experience, and they're a year-round problem here in South Carolina. This means you have to be extra vigilant to protect your home—keep an eye out for discarded wings, hollow-sounding wood, and mud tubes on the outside of your home. If you notice any of these, it's time for professional termite exterminators.
When you trust us for termite control in Conway, we will:
Inspect your property

to confirm termites are responsible for the damage.

Install Sentricon bait stations

around your property.

Confirm that the entire colony is eliminated

, especially the queen.

Leave the bait stations

to act as 24/7 monitors, ensuring they don't come back.

Discuss annual inspection options for ongoing peace of mind that your property is termite-free.   
Mosquito Exterminator in Conway
Conway's warm climate and unique geography create the perfect breeding ground for mosquitoes. But don't let these pesky insects ruin your outdoor enjoyment. Our mosquito control in Conway will provide you with the peace of mind you deserve. Contact us today for:
Free inspections: Our experts will assess your property, identifying mosquito hotspots specific to Conway's climate and geography.
Effective liquid sprays: We use industry-leading liquid sprays to target and eliminate mosquitoes in your area, ensuring long-lasting results.
Larvicides in targeted areas: Taking a proactive approach, we treat specific areas where mosquitoes breed, preventing them from becoming a nuisance.
Mosquito traps: We employ advanced mosquito traps to capture and control these pests, providing additional protection for your outdoor activities.
Our Guarantee
Should pests persist in between scheduled treatments, simply let us know and we'll re-service your home for no additional cost to you. That's our guarantee to you!
Image