Get a Free Inspection From Local Exterminators 
Pest Control in Socastee
Are common household pests invading your home in Socastee? Don't let them take over your space and affect your peace of mind. At Beach Pest Service, we offer 100% guaranteed residential pest control in Socastee, tailored to your specific needs. Our experienced team of exterminators is here to help you get rid of pests and create a pest-free environment for your family and pets. Here's what we can do for you:
Complimentary Pest Inspections: We start every service by thoroughly inspecting your home for potential entry points and signs of infestation. This ensures that we address all the areas where pests may be hiding.
Targeted Treatments: Our treatments are customized to your home's specific needs. Whether you're dealing with ants, roaches, spiders, silverfish, fleas, moths, rodents, or any other common household pest, we have effective and safe treatment methods to eliminate them.
Open Communication: We believe in maintaining open communication with our customers throughout treatment. We will keep you informed and address any concerns you may have, so you can have peace of mind knowing that your home is in good hands.
Recurring Services: To ensure pests don't come back, we offer recurring treatment plans. Our team will schedule regular appointments to provide long-term protection for your home.
Satisfaction Guarantee: We back our services with a satisfaction guarantee. If you're unhappy with the results, we'll work to make it right.
Image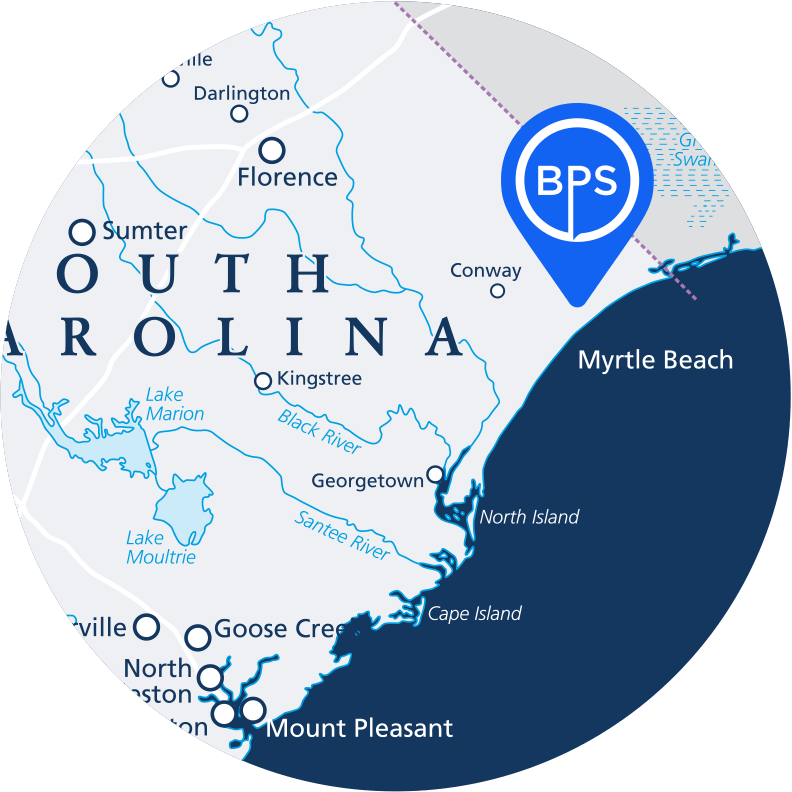 Locally-Owned and Operated
Here at Beach Pest Service, we are proud to be a locally-owned and operated company you can rely on. With a deep understanding of the local environment and specific pest challenges in the area, our exterminators provide tailored solutions that are both effective and environmentally friendly. When you choose Beach, you are guaranteed top-notch service while also strengthening the bonds that make our community thrive.
Not in Socastee? Our Myrtle Beach exterminators service communities all around the area. 
Mosquito Exterminator in Socastee
Don't let mosquitoes ruin your time in Socastee, SC. Our mosquito control service is here to provide you with the peace of mind you deserve. With our expert team and effective techniques, you can enjoy your outdoor activities without constantly swatting at these pesky insects. Here's what we offer:
Free inspections
Liquid sprays
Larvicides in targeted areas
Advanced mosquito traps
Recurring or one-time treatments
And more!
With Socastee's climate and geography, seasonal mosquito control is a necessity. Don't let these pests take over your outdoor space. Choose our mosquito control service in Socastee for effective mosquito treatment and prevention.
Bed Bug Exterminator in Socastee
Don't let bed bugs ruin your sleep any longer! With our comprehensive bed bug control in Socastee, you can finally get rid of these pests for good. After our initial inspection, our exterminators will provide a triple treatment to eliminate bed bugs:
Vacuum treatment: Our HEPA vacuums are specially designed to remove bed bugs in all life stages. We will vacuum clusters of bed bugs and their eggs to ensure thorough treatment.
Steam treatment: Our specialized heat and steam treatments are highly effective in killing bed bugs hiding in mattresses, furniture, cracks, and crevices. We leave no place for them to hide.
Liquid treatment: In addition to vacuuming and steam treatment, we also use family-friendly liquid treatments to target bed bugs in hard-to-reach areas. 
We stand behind our services and offer a 60-day warranty. If you experience any issues within this period, we will return to address them at no extra cost.
Termite Exterminator in Socastee
Termites are every homeowner's worst nightmare. Don't let these pests compromise the safety and value of your home. Trust our termite control service in Socastee to provide you with professional and effective solutions! Here's how our exterminators can help you:
Ongoing termite control: Socastee's humid climate creates the need for continuous monitoring to prevent termite infestations. Our termite control service offers regular inspections and treatments to ensure long-term protection.
Monitoring with Sentricon: We will install Sentricon bait stations around the perimeter of your home, providing a proactive approach to termite prevention and control.
Annual inspection options: For ongoing peace of mind, we offer annual inspection options to ensure that your property remains termite-free.